Fowey Rivers
The Fowey River Class
The Fowey River class dinghy is based on the Yachting World 15ft knockabout dinghy designed by Reg Freeman in the late 1930's. The plans were published in Yachting Monthly magazine in April 1939 to try and encourage people to build their own boats from plans that were available to purchase through the magazine. After the war the design was again publicised in Yachting Monthly in November 1945 issue.
The original plans included options for chine or clinker hull construction from timber. The rig was shown in three options gaff, Bermudan and gunter. The clinker hull with gunter rig has been adopted by the class since its inception in Fowey.
In the early 1950's, Hunkin's Boatyard at Polruan built one of these knockabout boats for the local dentist Mr Mogg, who named her Michelle after his daughter. More soon followed, with 15 boats in the fleet by 1957.
As well as Hunkin other local builders have also built Fowey Rivers. Percy Mitchell at Portmellon, Watty in Fowey and Toms in Polruan and by 1965 the fleet had reached 36 boats. As with a lot of local wooden fleets, the numbers then dwindled in the 1970's and 1980's as grp construction became that of choice for the majority with the fleet almost disappearing and just one Fowey River racing regularly along with a few 'old wrecks' turning out for Regatta.
However, there was an underlying interest in the boats; they could be used for racing, rowing, taking the family to the beach for a picnic, put a little outboard on the back and motor up the river on the evening tide to Golant or Lerryn: a truly multi-purpose little boat indeed a 'knockabout'!
In the early 1990's, one or two new boats were built. Some of the older boats underwent serious restoration work: the keel/garboard seam was a weak point, as was the fastening of the centreboard case. Over the last 20 years, a renewed interest has seen the fleet back out racing with nearly 30 new boats built and several "oldies" restored. Fowey Rivers, with their multi-coloured sails are an intrinsic part of Fowey Harbour.
Since hull number 52, launched in 2007, the majority of boats have been built by Marcus Lewis in his workshop at Windmill in Fowey with three being built by Peter Williams. The latest hull number is number 70 launched in 2019 and number 71 is currently under construction.
---
Fowey River Racing Today
There is an active Class Association, which organises social and sailing activities and seeks to protect the spirit of this very special boat by involvement during the building of new boats to ensure they fit within the class measurement rules. A set of class rules governing the construction and specification of the hull, spars, sails and fittings are available here for those interested.
If you would like to share the enjoyment and pleasure that owning a Fowey River brings and would like to have a trial sail, please contact Andrew Dellow, the class captain who will assist in whichever way possible either introducing you to the boat builder or owners with boats for sale. Or if you are interested in crewing then also let Andrew and he can put you on the crew list.

The Class has an active racing and social programme with club racing taking place on Wednesday evenings and Saturday afternoons April to September and Friday evenings between June and August. The Wednesday and Saturday racing is split into separate series each of two months and with and a single Friday series. Special races to Golant and Polkerris are also run which end up in the pub at each of these two picture postcard waterside villages and make for a great day. Several cup races are held through the season and these also form part of the series. The highlights of the season are the class championships which take place over three days at the end of May attracting about 20 boats and of course Royal Fowey Regatta in August with 8 races over four days with up to 35 Fowey Rivers adding a spray of colour to the week and making up the biggest fleet of the event.
Racing is organised on behalf of Fowey Gallants Sailing Club and Royal Fowey Yacht Club by Port of Fowey Race Organising Committee (POFROC). They have their own dedicated web-site where all notice of race, sailing instructions, entry forms and calendar may be found. POFROC also host the race results on behalf of all class racing in Fowey.

Social events are organised through the year from post-race analysis over a pint in the club bars, regular suppers or BBQs and a Christmas jolly.
You can also follow us on Facebook at the "Fowey River Class Association" page.
---
Contacts
Class Officers' Contact Details:
Class Captain
Gary Barr
barrsie1@hotmail.com

Hon Secretary
Suzy Matthews
suzy.matthews@btinternet.com
Class Measurer
David Rundle
dj.rundle@btinternet.com
---
Boat Register
Fowey Rivers that are around in Fowey are shown below, the others have disappeared but if anyone knows the whereabouts or fate of the 'missing numbers' please contact one of the above. There is a chart showing all the known boats in the club and this is useful to identify individual boats as they all have a unique colour plan for their sails.
3 LAPWING Jenny Ringo
4 SHELLDUCK Terrance and Freddie Lewis
5 SIROCCO Richard Silvey
10 MARIE Robert Bird
12 DABCHICK Justin Varcoe
13 FRIDAY Margaret Davies
14 MICHELE John Sharp
19 GAVIOTA Nich de Sarandy
20 ORIEL Stephen Haye
21 FOXCUB Michael Sissons
22 SUNBEAM David Hunt
23 WINKLEPICKER Chris Walton
26 LA MOUETTE Chris Palmer
27 PIPPEN James and Kathy Kirby
28 FIREBIRD Graham and Wendy Pope
29 NOT TO WORRY Rob and Sarah Williamson
31 JOCASTA Roy Kishor
32 EMMA Peter Spry Leverton
34 PEGGY Paul Salmon
35 KESTREL Nick Handoll
36 SCARLET VENTURER Duncan and Alison McInerney
37 MICHELE R & Michele Warrington
38 MADRIGAL David Ibbotson
39 VICTORY David Gamble & Hazel
40 ARIADNE Phillip & Suzanne Allan
41 MERLIN Peter Benton
42 FORTY TWO Bryan Davis
43 TOUCAN Julian Allbutt
44 TADPOLE Gary and Kay Barr
45 BLUEBELL Kevin Thorley
46 ALBATROSS Kevin and Mandy Cocks
47 HEDGEHOG Dino de Zorzi and Phil Russ
48 CAPTAIN ELLIS Daniel Mitchelmore
49 SAFFRON Trevor Kennedy
50 GUILLEMOT Graham Slack
51 IOTA Andrew and Mandi Dellow
52 LA HIRONDELLE Chris and Jane Spenser
53 KINGFISHER Andy & Suzy Matthews
54 FOUR BROTHERS Peter Hadley
55 RED KITE Sarah Powell and Kate Arter
56 ORINOCO Jane & Anne Coghlan
57 QUETZEL Paul Chambers
58 PENGUIN Colin Savage
59 SWALLOW Richard Coles
60 YAFFLE Richard Morgan
61 PUFFLING Rob abd Sarah Williamson
62 GOLDENEYE Peter Tiindall
63 KITTIWAKE Richard Simmons
64 HAP'ENNY Chris Menheneott
65 FIRECREST Chris Wyman
66 PERIWINKLE Andrew Fenn
67 SWIFT Alan Hall
68 ZETHAR Philip & Sian Henson
69 MAGGIE Paul Roper
70 GABBIANO Kim and Sal Furniss
71 CRAIG-B Cathy Baillie
72 TBC - under construction for launch in 2022
Downloads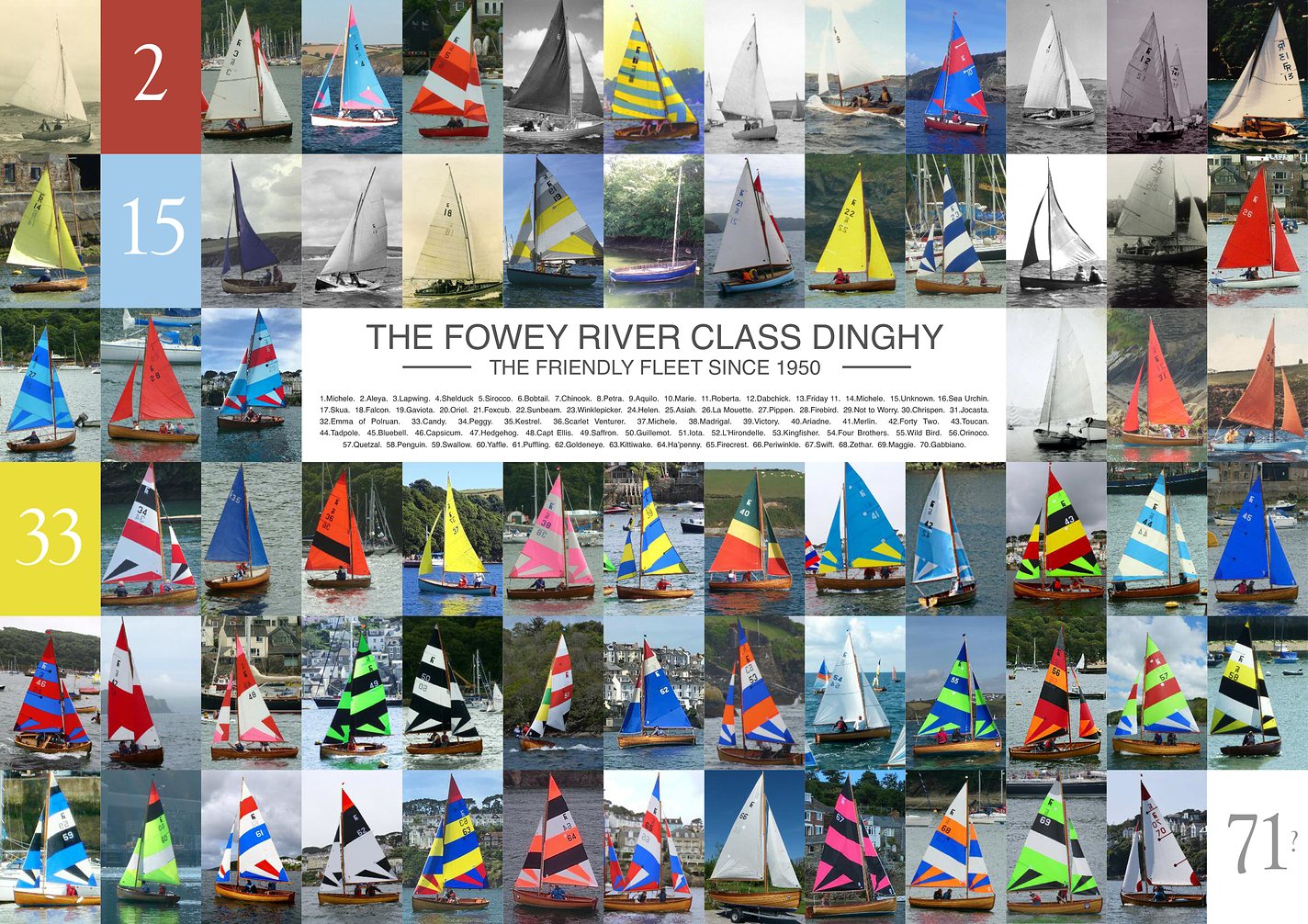 Last updated 14:50 on 27 March 2023